CardValet®
Introducing CardValet®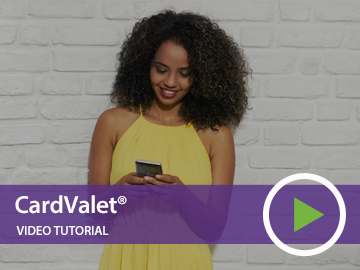 Premier Source Federal Credit Union has a new service called CardValet®! This service protects your debit and credit cards through your mobile device by receiving alerts and defining when, where and how your payment cards are used. Simply put, it's Your Cards, on Your Terms.
Benefits
Fraud Protection
Paying with a card is convenient but it also comes with risk. CardValet® manages that risk by giving you the power to control the way your cards can be used.
Receive alerts whenever your cards are used
Set transaction limits based on dollar amount, merchant category, transaction type, and geographic location
Control your cards by turning them "off" if they are stolen or misplaced and back "on" when you are ready to use them again
Control Spending
Whether you are trying to stick to a budget, monitoring the spending of other family members, or trying to meet other financial goals CardValet® gives you the power to control your debit and credit card use.
Set spending limits for general use or specify thresholds by merchant types, such as gas, groceries or retail stores

Monitor your children's spending and remotely control their cards

Establish controls by location and change parameters via your mobile device

Use your smartphone to turn your cards on or off at anytime
Review Balances and Transactions
How can I Get CardValet?
CardValet® is available for both iOS and Android smart phones. Premier Source Federal Credit Union members may download and install the CardValet® app to your device at no cost. After you've downloaded CardValet®, open the app, follow the prompts to connect your Premier Source debit or credit VISA Card and start enjoying all the benefits of advanced card security!